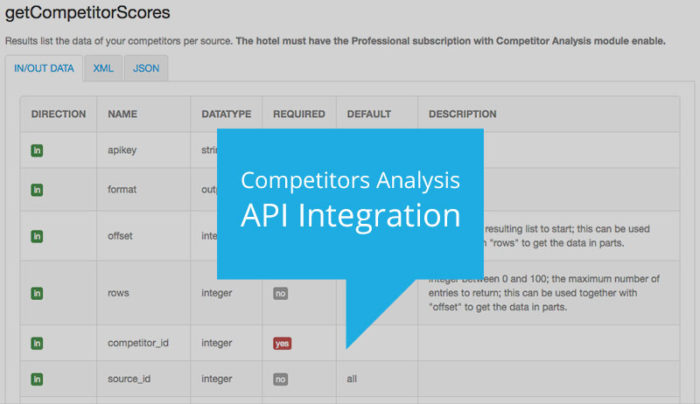 We have just released the new Competitors Analysis module also for the API platform available to our Partners.
The Competitors Analysis module is enabled to hotels that use the Professional subscription plan.
In details, two new functions are available for the API integration: getCompetitors and getCompetitorScores.
The getCompetitors function is useful to get all the competitors list and details for a given hotel while the getCompetitorScores returns the main scores as the overall rating, ranking, single department score (cleanliness, staff, comfort, location, etc…) from the main travel portals, online travel agencies (OTA) and social networks.
The getCompetitorScore function also allows to compare the individual scores of each department for each source (travel portals, social networks, etc …) comparing the dates of previous periods returning the difference (positive or negative).
If you are our Partner for the API integration, login into the Affiliate Center to read the documentation and get the information you need to implement the Competitors Analysis module.
Are you looking to become our Partner?
Feel free to contact us!